Back into the Bottle! - The Spring Summoning
May 7, 2021
This years Spring Summoning – "Back into the Bottle!" is printed and shipping to all Patrons as we speak! Still time to secure one. Best way to guarantee yours is to become an active patron of the arts by midnight May 7th. More info about what I do and all the magic that's happening. This is a new second, custom handmade greeting card, for every Patron for the year. How did this happen?
Last Years Handmade Halloween: The Spirit of the Lanterns

As you remember last Halloween we experimented with silkscreen, and did "Spirit of the Lanterns" to wide enthusiasm. The hauntingly beautiful barn owl The spirit of the lanterns. They fly on brisk grey winds. They fill the thin night air with magik light that brings the spirit world close and into ours. That piece was so loved we had to do another. Officially going forward we will do two handmade cards a year: April's The Spring Summoning and October's Handmade Halloween, respectively. They are a retro dive into traditional ink, pen & paper, and handmade Art. It is also a show of gratitude to everyone who helps this art journey. And speaking of journey, how did we do it this year? We got into FUSE, a new maker space, and had tremendous help from a printer who's been screen printing for decades, Steve Lee! What follows is the process…
The Process for Back into the Bottle - First up, the drawing!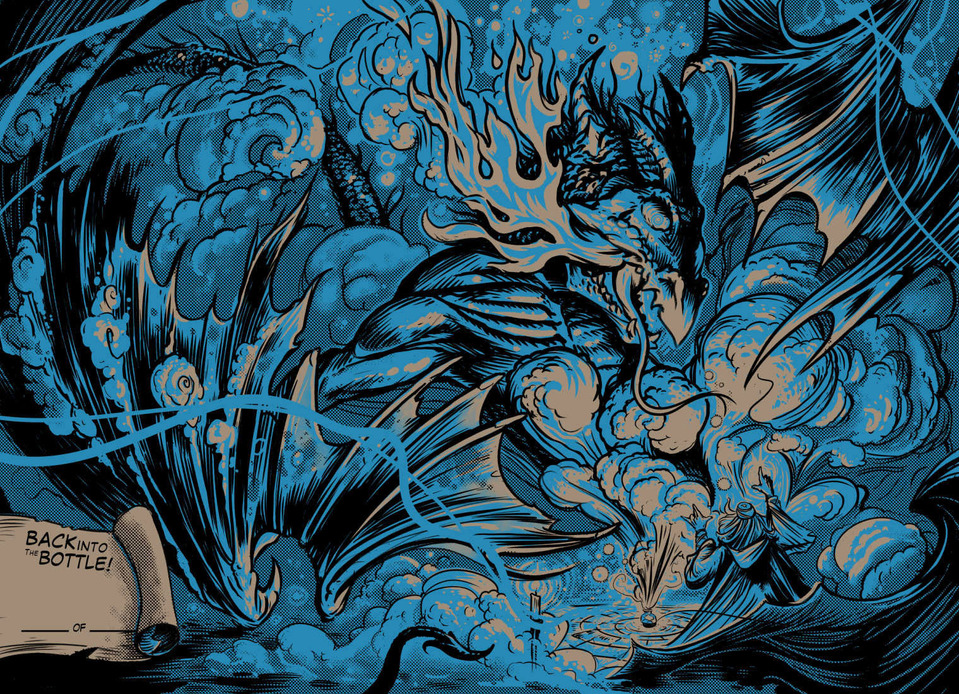 The drawing process is pretty straight forward. I fire up my trust 12" iPadPro with iPencil, and launch into sketching in my favorite app Clip Studio EX. The process is pretty linear, pun intended: pencil sketch, to inked layer, then add a color layer, and finally a halftone for shading. The file in Clip Studio consists of three layers two for the colors we will print in Black and "Peakcock" blue and a third background layer. Each layer is exported out and a film layout file is created in photoshop.
Paper, Film, & Screens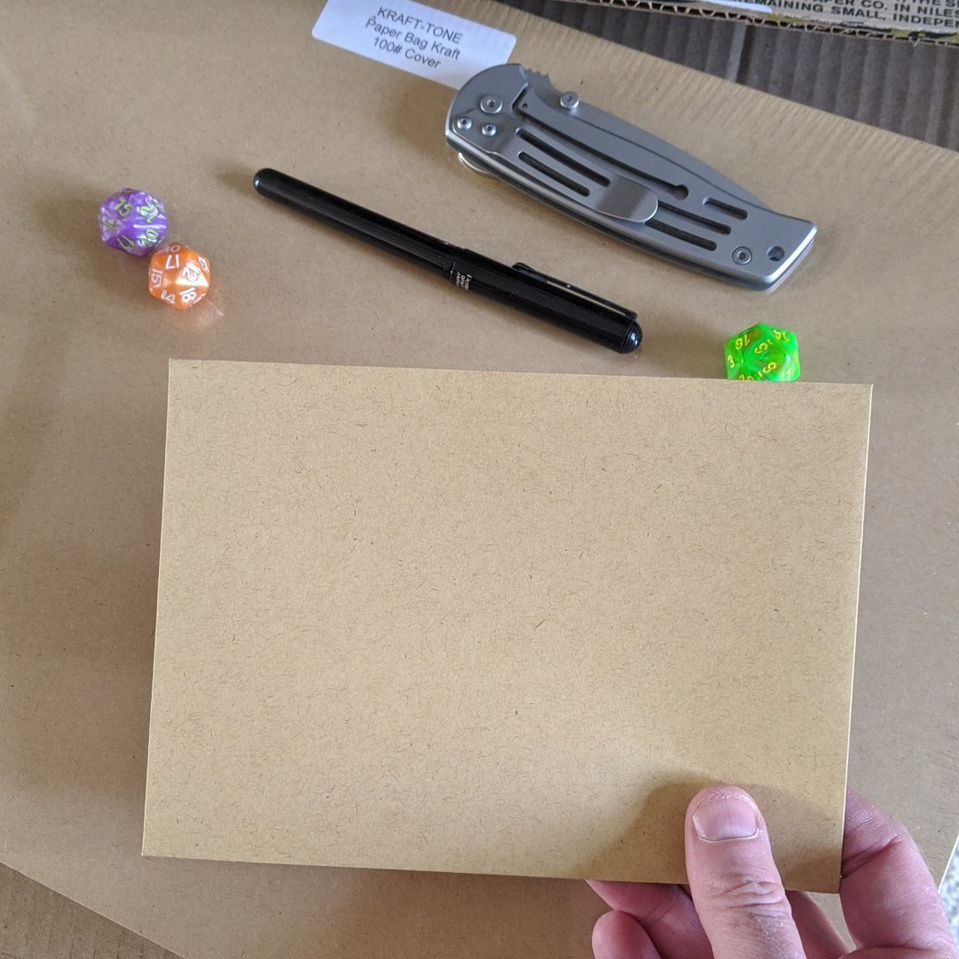 Rey & I spared no expense with paper and went with an old classic - French Paper Co. We chose a really nice heavy Kraft paper with matching envelopes. Each color file, black and blue, is printed out onto transparency film and sandwiched onto a photosensitive emulsion, on a printing screen. The screen are exposed to light then washed, leaving a negative screen that acts like a giant stencil for the image. The screens are loaded onto a press and we line everything up. This is the longest part of the process actually, the set up. Everything has to line up and be perfect for each color to go down in the right spot to avoid miss prints. Once alined, the screen is inked up and we are PRINTING! Here is great video by my good friend Jonito showing the steps.
Printing
Here we have the printing phase. Paper is placed on pre-made tabs to ensure alignment. Screen is inked up and the squeegee pushes the ink through the screen/stencil and the ink transfers to the paper. This goes rather quickly, as we are using a classic "One arm bandit" press, as opposed to hand pulling like last years. One hundred sheets took about a half hour per color. We only lost three or four sheets out of 100, and a small handful of individual prints due to miss alignment. This is normal during production. The run came out to one hundred sixty folded cards, and some extras just in case the mailman has sticky finders.
Finishing: cutting, folding, signing & shipping.
After the sheets are dry we take the entire stack to the guillotine cutter and cut them all at once to the final trim size 10" wide x 5" tall. If you look at the sheets on racks above, you can see trim and registration marks. These go through the whole process and get trimmed off with excess leaving clean final prints.
Next we fold each card by hand. You can see each time I do a run of prints I make a little guide out of heavy paper, ruler, tape, and a cutting board. The cards slide under the heavy card stock. Stop at the ruler, then I can score them perfectly, fold, then burnish flat. The large strip of scrap paper goes over the fold before burnishing to protect the image. This goes pretty quickly.
Signing & Numbering, shipping!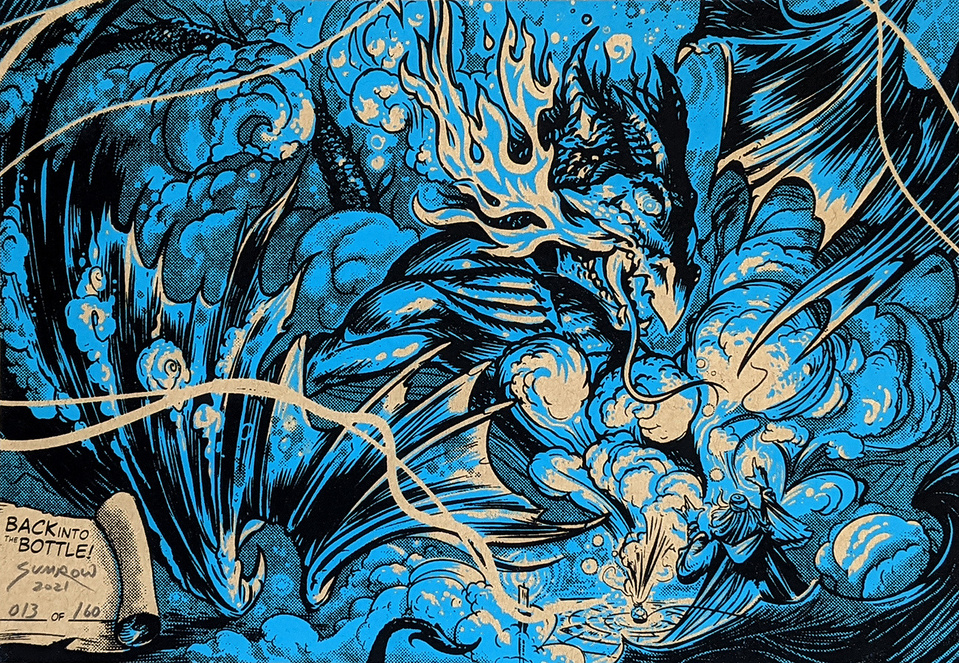 Thanks everyone for your love and support! They came out great if I do say so myself. The Spring Summoning "Back into the Bottle" countdown continues! Only 24 hours left to guarantee you get one!
Support the Arts, at any tier, by midnight May 7!

Thanks for stopping by, Sumrow